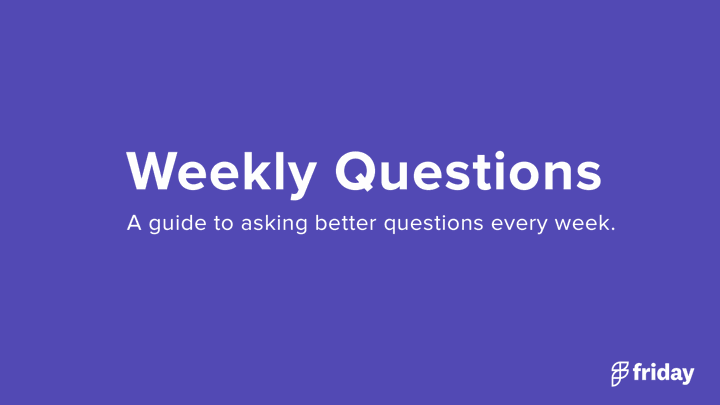 If you've got 99 problems, make sure an unhappy team isn't one.
All great managers and leaders will tell you that communication is key to building a team that works well together – it's a key piece of the continuous improvement process.
One of the easiest things you can do to create a well-oiled team machine is to have regular check-ins (also known as retros). Although the occasional ping on Skype or Slack is great for touching base, it's hard to know how an employee is really feeling about tasks at hand or company culture without ongoing touch points.
P.S - you can apply the same principles on a personal basis with work journaling.
We've rounded up a list of our favorite weekly questions to ask your team including the tactics behind each one and why they're a great way to end every workweek.
P.S. - Friday makes it easy to automate weekly check-ins. You can try it for free and get up and running in less than five minutes.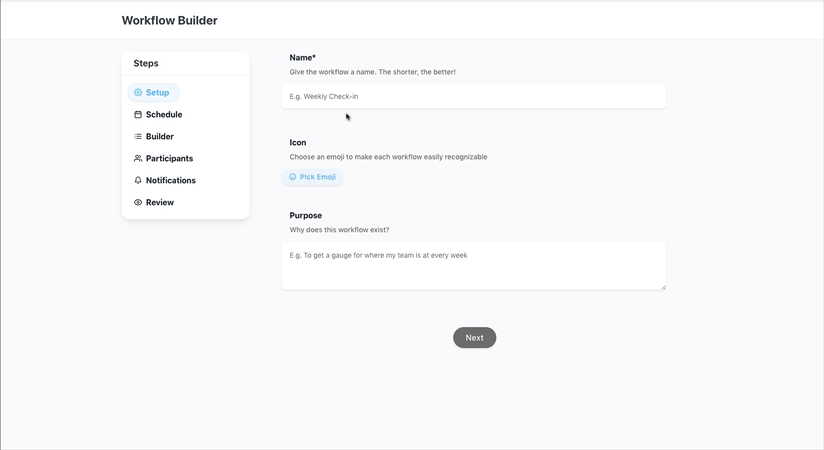 Tip #1: Avoid sweepingly broad statements
Original question: What can we improve on?
Updated Question: What can we improve on with how we are launching project XYZ?
Although it's great to offer up broad statements that encourage employees to give candid feedback, it's much easier for them to respond to specifics. If you're hoping to find out what you can do better as a manager or within the company as a whole, rephrase those questions so that an employee can use it in real-time scenarios.
Plus, specific feedback is more actionable. If you want to use an employee's candor as a way to initiate change and react to in real time, responding to current issues will be much easier.
Keep more general questions to be circulated during your quarterly reviews, weekly check-ins are for the tactics.
Tip #2: Don't force criticisms
Original Question: What can I do better as a manager?
Updated Question: What do I do as a manager that's currently a roadblock?
Some questions are punts. And asking for an employee to critique their manager? That's not going to get you anywhere near the end zone.
It's hard enough to ask an employee to give criticism to the person that cuts their paycheck. Even if you're on the best of terms, it's still not an easy thing to do.
Give them the opportunity to suggest room for improvement instead. Employees will value being able to say, "I'd love faster turn around on edits to get blog posts published more quickly" rather than saying, "You could be quicker about responding to emails."
Think about it. Saying "You suck" to someone is way harsher than saying "You suck at responding to emails."
Specificity wins out and also helps people know exactly where they can improve. 
Tip #3: Don't make it all about work
Original Question: What are you doing this weekend?
Updated Question: What did you think about last week's episode of Pod Save the World?
Try and make one of the weekly questions to ask your team be about something you can all weigh in on that has nothing to do with work.
For example, if you all love a particular podcast, shoot out a weekly question about the latest episode. Or start an office book club that invites everyone to check in with their thoughts on the latest chapter.
It's always good to throw in a personal, just-for-fun question when you're checking in. You want to maintain a friendly rapport and casual questions are a great way to do just that. By elevating it with something you're all interested in rather than zeroing in on general weekend plans creates an inter-office camaraderie that will eventually feel more natural than rehearsed. 
Tip #4: Throw a curveball periodically
Original Question: What can the company be doing better?
Updated Question: If you were me, what would you improve about the company?
Weekly check-ins aren't just about building relationships, but about keeping tabs on how well the company is doing too.
Offer employees opportunities to really think outside-the-box when it comes to how the company performs. Throw them for a loop and ask a question about a specific project that just wrapped up. Or have them answer a fill-in-the-blank question about your managing style that requires more than just a run of the mill response.
Tip #5: Consider time in all its tenses
Original Question: What did you feel good about today?
Updated Question: What did you feel good about today? What are you looking forward to working on next?
Ask questions that allow your team members to think about projects that have finished, projects that are ongoing and projects that are in the pipeline.
Happy employees are more productive, which is why it's important to look at how they're feeling about their entire work journey, not just the day-to-day. Making sure a recently completed project gives them a feeling of satisfaction is as important as checking in to see that they have something to look forward to. Good experiences all around are key to keeping them blissed out at their desk.
At a higher level, it's also good for an employee to take a step back and look at their strengths. Asking them to look back and forward is a great way to help them self-assess and bring their greatest potential to the table.
But they don't need to be looking towards the future or towards the past every week. Just make sure it's something you keep in mind when looking at employee happiness on a holistic level. 
Tip #6: Celebrate the wins
Original Question: What could you have done better this week?
Updated Question: What was the best part of this week?
It's important for employees to acknowledge their successes at the end of the week. A failure is easier to spot since as a manager, it's easy to see when things fall through the cracks. But small wins are often overlooked.
Employees need to be encouraged to share when they've gone out of their way in a project or successfully fixed an issue on their own. By asking them for the best part of the week, you'll not only be able to see some of these triumphs, but you'll be able to acknowledge them too.
Phrasing the question this way also gives them the opportunity to share a win outside of work. If their intramural dodgeball team made the playoffs, let them flex their bragging rights.
In Conclusion
Regular check-ins are a powerful way to understand what's going on at work. Feel free to try out our free weekly check-in workflow to start asking your team these questions on a regular basis.