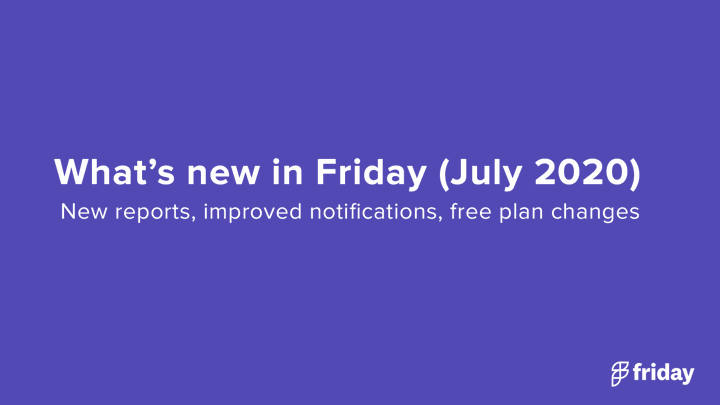 As a large portion of the working population continues to work remotely due to Covid, we're continuing to make product improvements that make it easier to stay connected and make work more flexible.
As a friendly reminder, we exist to make work better, especially for distributed teams. We're making it easy to understand what's going on by automating routine communication and updates, like daily standups, weekly updates, and more.
We recently ran a survey to see if we are actually making work better.
Here's what you told us:
75% say Friday helps you feel more recognized for the work that you do 👏🏾
81% say it helps you stay in sync with your team
85% say it helps improve team transparency
87% say Friday makes it easier to work with your remote team 🔥
78% say it improves remote team culture
82% say it makes it easier to feel connected at work
Additionally, 50% of you said that Friday helps you save at least an hour a week in meetings, with 20% saying it saves you at least 2 hours per week.
We're excited about this, but we have more work to do. With that out of the way, let's get into the product updates!
1.) Brand new reports
Friday automatically creates a report for every workflow you create, which helps you walk into meetings with updates already out of the way. It also helps you quantify work in a new way. There are two views right now (with another on the way shortly)
Batch view
The batch view allows you to quickly gain a snapshot of responses in a particular moment in time (daily, weekly). You can see an example report below: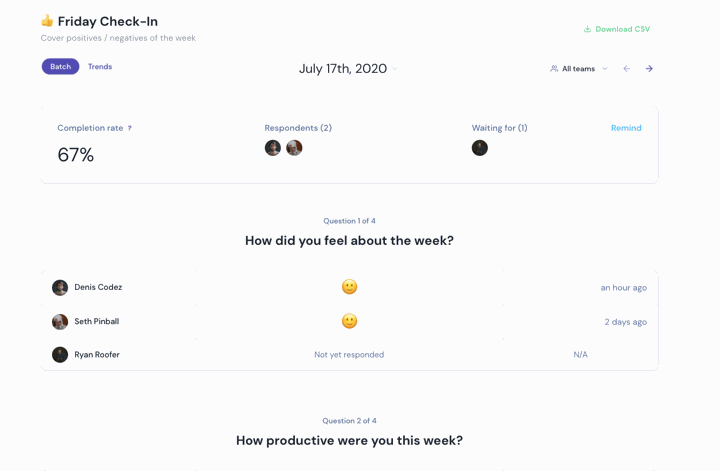 Trends
The trends view will allow you to see trends develop over time, like team sentiment or the response rate. If a question can be aggregated, we will automatically do this for you.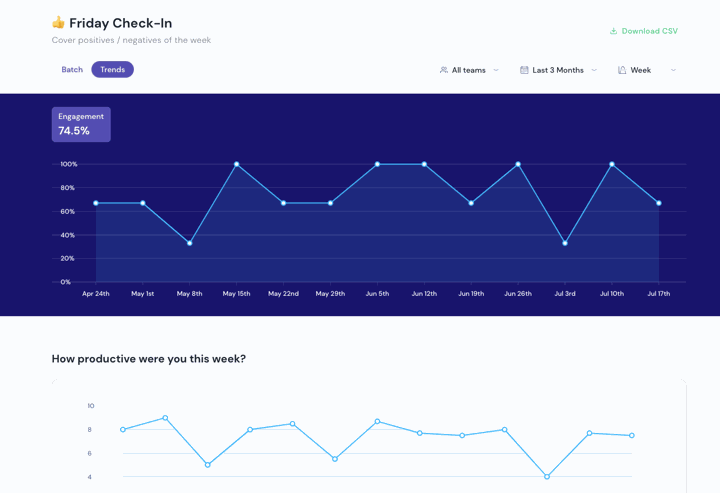 Stay tuned here - we may be working on ways to aggregate open-ended responses into meaningful trends 😉
2.) Batch Notifications
With the improvements to our reporting experience, we also spent time improving our notifications. Before, as each person submitted an update, we'd push the responses one-by-one into Slack, Teams, or Email.
As you can imagine, with larger teams this got a little noisy 🙀. 
That's why we launched the ability to send a single notification at a given moment in time. For example, if you collect weekly updates for your Monday morning staff meetings, we can send a single notification an hour before the meeting with a link to the report.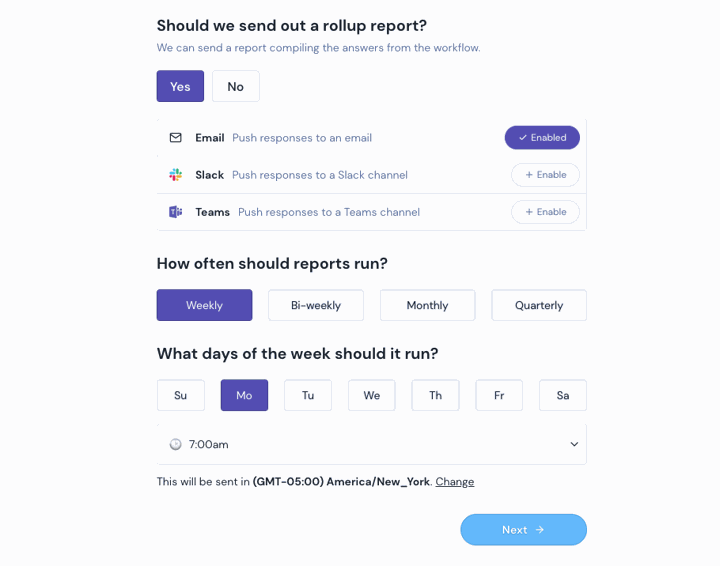 These improvements help reduce notification overload, which gives you more time to do deep work. 🍻
With that being said, sometimes you want to push responses one at a time as updates come in (like daily standups) to empower others to submit their updates in a timely manner. You can still do that too.
You have complete control over what option makes the most sense for you and your team.
3.) Easily attach work from Github to your updates
When giving an update, you can now attach a pull request or issue from Github with a single click. This makes it easier to give updates and remember what you accomplished.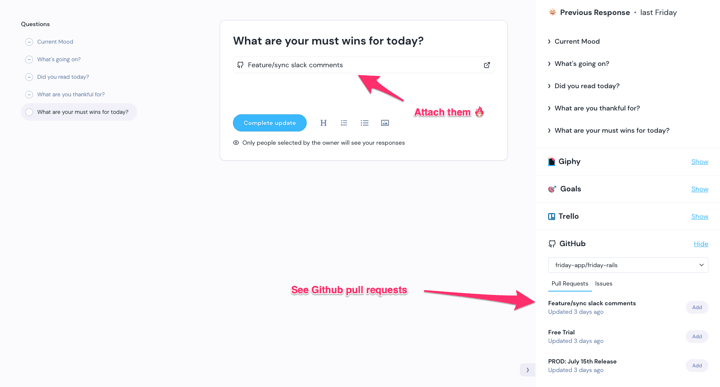 We have more integrations that we plan on releasing soon. We're constantly working on improving the update experience so it's more fun and feels like less work 🏋️‍♀️
4.) Other product improvements worth mentioning
We shipped other improvements which we've listed below:
If you login/signup with your Google account or Slack, you can easily invite others from your company with a few clicks
You now have more customization options for when you can send reminders to people who haven't given an update
We made various improvements to our new goals feature, improving reliability.
5.) Changes to our free product offering
After much consideration, we're making changes to our free plan. Specifically, the free forever plan will offer the following features:
For existing users with active workflows, you will still be able to keep ALL of your active workflows running. However, if you try to create a new workflow (on top of existing ones), you will be prompted to start a free 14-day trial of our premium offering.
New: 14-day trial to explore the product
If you'd like to explore all the premium features of Friday (goals, advanced trends reporting, etc), we are introducing a 14-day trial with no credit card required.
The goal of this trial is to make it clear what you would receive as a paid customer. We think you should know exactly what you are getting yourself into instead of paywalling features and forcing you to upgrade to see how a particular feature works. That feels weird.
After you end the 14-day trial, you will be prompted to upgrade your account (starts at $6/mo per person) or you will be downgraded back to the free plan with limited functionality.
If you have questions, comments, or concerns about these changes, please contact us. These changes will be rolled out later this week.
6.) New guides, writing, interviews
Finally, we wrote a bit over the past month about remote work, improving meetings, and more. Here's some articles you might like to read:
Wrapping up
If you have questions or comments, please drop us a note. We're always interested in learning more on where we can improve.
If you haven't created a Friday account yet, you can get started for free here.