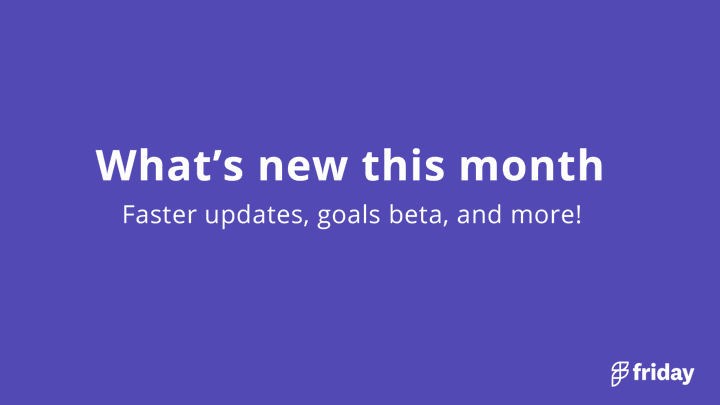 Our goal at Friday is to power more flexible work for distributed teams. We think the best way to do this is by helping everyone understand what's going on, without spending all day in update meetings. This is especially important as so many people are working from home and feeling Zoom fatigue.
Over the past month, we've shipped a lot of new features and improvements we'd like to share with you.
Here's the quick summary:
We made it easier to share updates by pulling in work from third-party tools like Trello
We have a new goals feature that makes it easy to share progress at a high-level
We dramatically improved our Microsoft Teams Integration
#1: Share better updates in less time
First, we'd like to introduce you to the context panel.
The context panel is a sidebar that makes it easy to share updates in less time. We'll pull in your previous response from Friday and also units of work from third-party tools like Trello.
Then, with a single click, you can add the work from these tools to your update. This will automatically add a link to the work, so any viewer can dig in deeper if desired.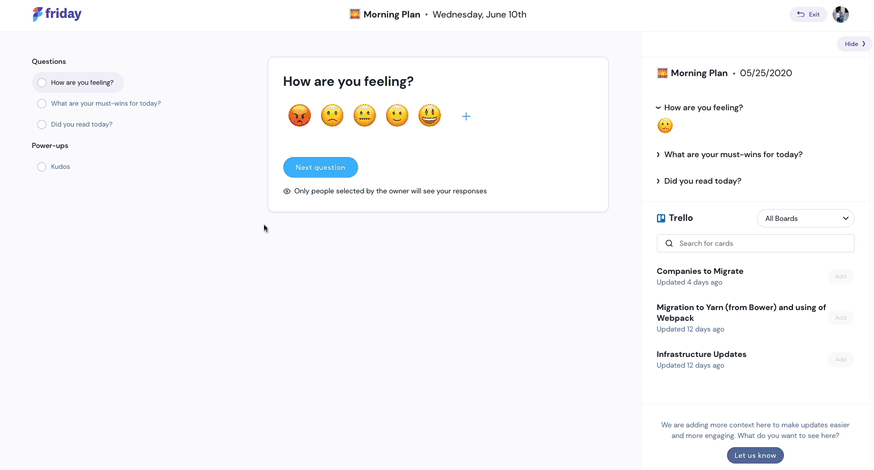 We learned that many of you will visit other tools to remember what you accomplished, so we decided to automatically pull it in to help save time and make it easier to share updates :)
We will be releasing other integrations besides Trello this month, but if you have ideas on what integrations we should offer moving forward, please let us know!
Unlike boring status update meetings, you will never forget what you've accomplished with the context panel. 
#2: Introducing goals and progress tracking (beta)
Is your team or company effective at setting goals and measuring progress? If so, congratulations! You are one of the few.
There's a few problems with goals right now:
Goals are rarely documented. If they are, it lives in a Google doc or spreadsheet and no one ever references it on a regular basis.
Goals are supposed to help you align your day-to-day work, but it's not part of your everyday workflows, so you don't do it.
Vendors and software providers create unnecessary complexity to sell OKR products that people don't want to use
You need to manually ask people for updates, so you hold meetings to talk about it.
So we built something to help and it is part of the core Friday update experience.
How goals in Friday work:
1.) Create goals and assign a responsible person from the goals page: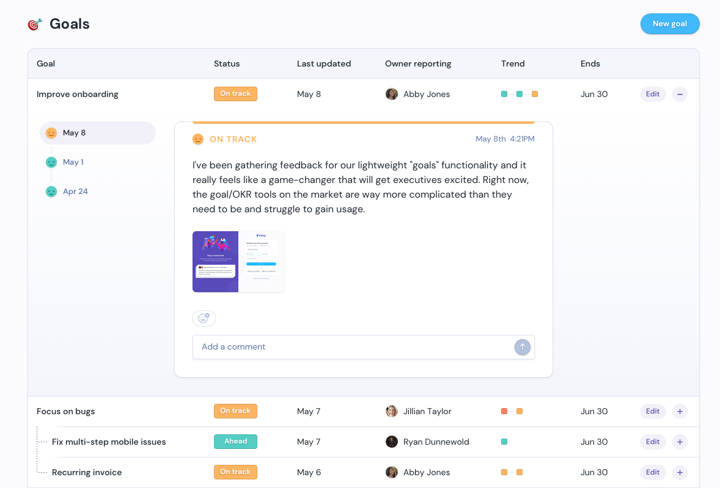 2.) Enable the goals power-up in a workflow (like a weekly update)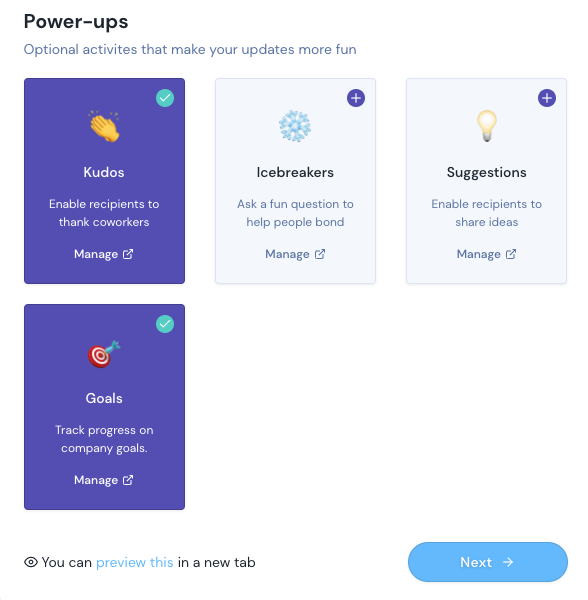 3.) The responsible person will share how they are trending towards the goal as part of the update process in a simple, color-coded format.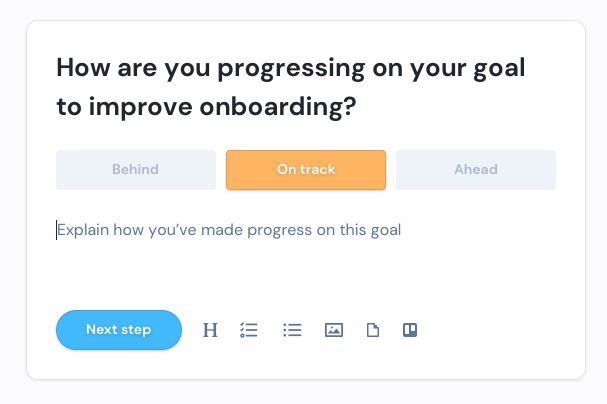 4.) You and your team can see how everyone is trending towards their goals in a single, uncluttered view. Additionally, you will see your goals when sharing progress on daily standups in the context panel.
To use the status reporting analogy, think of goal progress as the executive summary. It's the quick highlights and the "need to know" info.
If you'd like to try this feature out and be a part of the beta, please contact us.
#3: Microsoft Teams integration improvements
When we originally released our Teams integration, it wasn't the greatest experience. And when I say that, I mean it didn't work at all for some of you 😕
We spent some time with the friendly people at Microsoft and rebuilt the integration, removing extra permissions, and cleaning things up! It's much more stable now, so if you gave it a try in the past, we'd love if you tried again and let us know what you think.
You can see how to set this up in the integration guide we put together.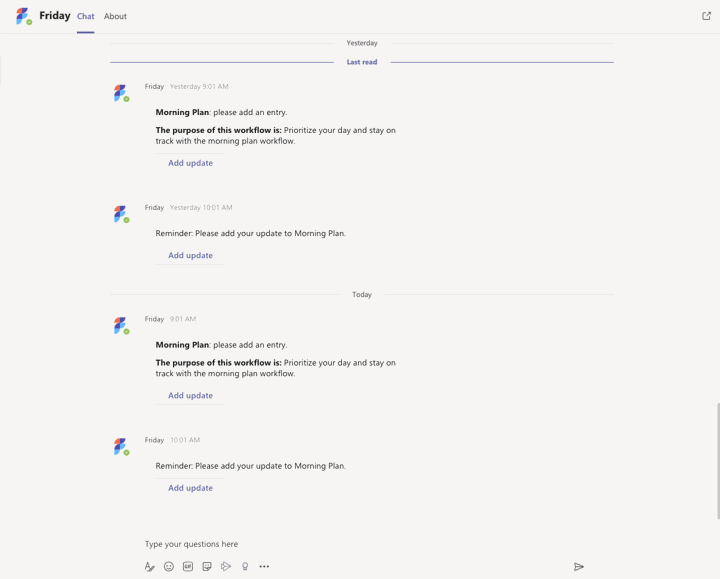 #4: What's coming up next?
We have a lot of fun stuff we will be releasing in June:
Brand new reports (see a sneak peak here)
Improved notifications, like being able to send a single notification at a specific moment in time (deliver a daily standup report everyday at noon)
More integrations and continued improvements to the editor experience
A deeper integration with Slack
Some surprises 🤗
If you have something you'd like for us to improve, feel free to reach out!