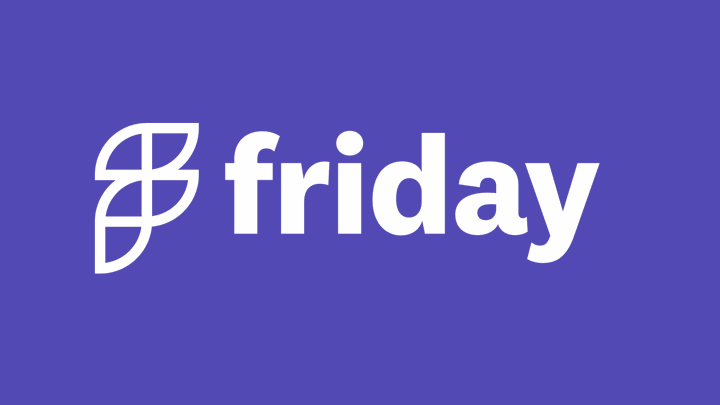 Earlier this year, we gave a quick overview of our product direction, but we're finally ready to show you the next phase of Friday Feedback. On Tuesday, July 16th, we'll be releasing the new experience for you, including changing our name to "Friday."
When I initially started the company a few years ago, the product was based around the notion of software facilitating a "feedback loop" through regularly occurring conversations, mostly between employee and team leader.
Since then, we've realized that there's a much bigger opportunity to help make work better. At its core, communication problems are the leading contributor to most of the problems we see at work.
Communication problems at work
These issues can take a variety of forms and looks something like the following:
People don't understand what's going on, inside their team and across the organization. This lack of visibility leads to a duplication of efforts and misalignment.
Important conversations are pushed off for months, prompting dissatisfaction and leading to needless employee turnover.
It's not obvious how the day-to-day work connects to purpose and meaning.
We forget to say thank-you when someone else goes above and beyond.
We spend too much time in boring status-update meetings, forgetting the topics covered and our responsibilities minutes after the meeting ends. Meanwhile, the work piles up.
Distributed employees feel alone and disconnected from people who work in the office.
Unlike the workplace of a hundred years ago, bottlenecks at work aren't caused by a machine breaking down, but instead, by communication between people breaking down.
The best companies understand this and create a communication architecture for their organization.
Our new brand
Friday Feedback exists to make work better. We are no longer just a feedback tool, which is why we've decided to shorten the name and introduce our new brand, Friday.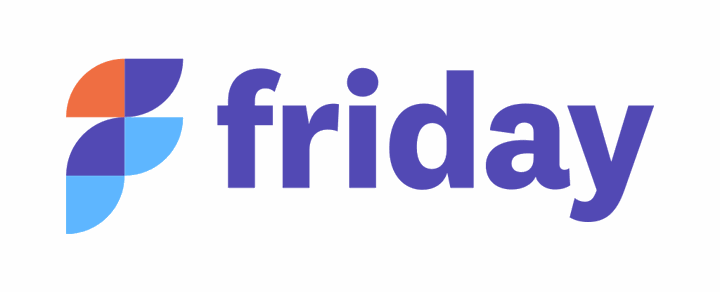 You will see a brand-new user experience as well. Here's a sneak peak.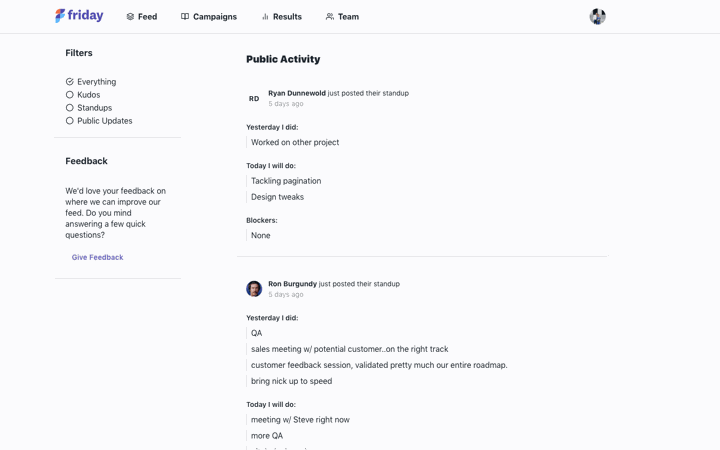 What you will notice:
A lot more purple
A much cleaner and modern-feeling experience
Faster load-times
A feed which shows all public activity (kudos sent, standups completed, public status updates) and functions as a home-base for understanding what's going on.
While we redesigned the entire user experience, we intentionally chose to keep the flow similar to reduce annoyances. We'll slowly be shifting things up in the future, but we'll make sure to keep the changes to a minimum to reduce any confusion.
We also decided to temporarily discontinue our 1-1 meeting feature. The long story short is that this feature was useful, but we need to take a step back and rebuild it in a way that's integrated and valuable. We apologize for this inconvenience, but we have a more robust implementation in the works.
What you can expect moving forward
Moving forward, we'll be releasing features and value at a much faster pace. Specifically,  we are focused on how we can answer the following questions:
How can we provide more value to individuals and teams?
How can we integrate into tools and systems that you already use?
How can we connect day-to-day work to a higher purpose?
If you have feedback, suggestions, or ideas, please reach out to us. We'd love to talk more.