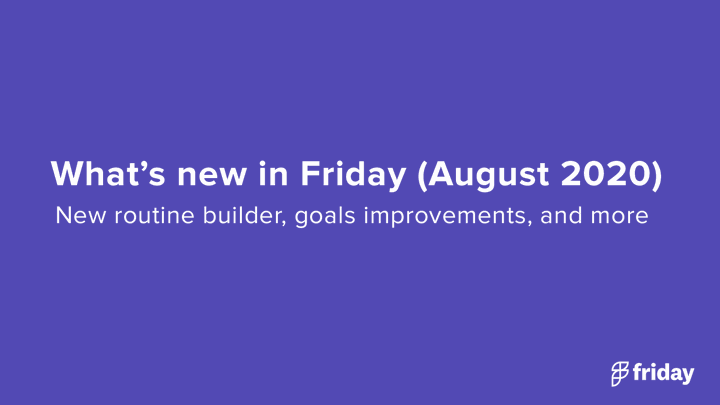 It's been a busy month at Friday and we're stoked to share what we've been working on.  Let's dive right in with a quick overview
It's now 2x easier to replicate the best practices of high-performers with the all new routine builder 🏃‍♀️
You can now nest goals and provide progress updates outside of your routines 🥅
We changed our free plan to offer unlimited routines 🔥
We've improved our Microsoft Teams functionality so it's much more stable
You can now easily access past invoices 📄
Now, let's discuss things in a bit more detail.
1.) All-new routine builder
We want to help you kickstart the habits of high-performing individuals, teams, and organizations. We do this by automating important routines that don't happen normally, like morning routines, daily standups, weekly updates, and whatever else you can dream up.
We launched a brand-new routine builder to help, so it's easier than ever to automate a work habit. Predictable process = predictable results.
You can watch a quick overview of the setup process below:
2.) Nest your goals and provide progress updates outside of routines
A couple of months ago we launched the goals power-up. The idea behind goals is straightforward - when giving updates in Friday, you should be able to share progress on key goals or initiatives as part of an existing routine (like in your weekly updates).
This helps you keep goals top-of-mind and understand the work that contributes to these milestones instead of having them collect dust in a spreadsheet.
We just launched the ability to nest your goals, so now you can create more specific goals that ladder-up to an overarching initiative (like a quarterly milestone). You can see how this works below:

You can also now share progress on a goal outside of a regular routine. Previously, you could only share progress when completing an update.
3.) Our free plan offers unlimited routines
Last month, we launched our new free plan. Long story short, we changed our mind and are now offering more value for free. Specifically, you can now create an unlimited number of routines on the free plan. Previously, you could only create a single routine on the free plan. 
Please note - accessing advanced insights for this routines is available on our premium plan. You can see our pricing here for more info.
4.) Microsoft Teams is more stable and reliable
Additionally, we made some enhancements to our Teams integration. Some of you may have experienced issues in the past when configuring routines and pushing responses into a particular channel.
If you ran into these issues in the past, feel free to try again! Make sure to remove the Teams integration here and try it again 😂. 
5.) You can now access your past invoices anytime!
For paid customers, you can now access a past invoice from our subscriptions page. We hope this helps you break down the barriers to becoming bffs with your finance team.
What's coming next?
We're going to spend some time next month cleaning up the user experience and making the product much more reliable and easy for you and your team to use! If you have thoughts or suggestions, feel free to send us a note.
With that being said, we have two new features that we will be launching in the near future. Here's a couple hints below:
Reports will be more insightful 😎
If you use Friday with your team, you will celebrate a bit more than usual 🥳
If you have thoughts/feedback/suggestions on these new features and improvements, don't hesitate to reach out!